Olympian | Olympian Electric Series | Titleist | Vulcan | Centurion | Titan | Portable Pulling System
Laser Measuring Systems | Mechanical Measuring System
Precision Mechanical Measuring System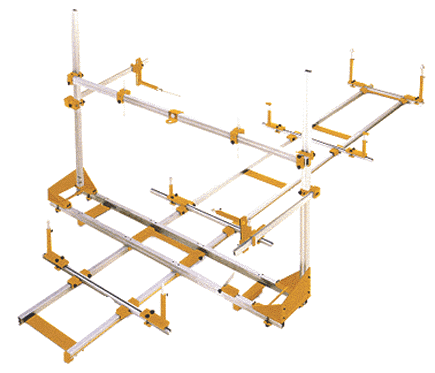 Put Us To Work
Easy to use precision components provide the speed and accuracy you need, creating the system you will USE everyday. With our system you can be sure that you have cheked the damage the right way first and fixed the damage the right way every time.
Universal Measuring
Universal measuring is the industry standard for complete damage analysis and repair verification. This system gives you the precision you demand at priced you can afford. Now, you can have fast, accurate, complete measuring, increasing profit and efficiency for your business. Choose this cost effective system for today and years to come.
Data
The system can be calibrated for your current data, or Mitchell CD Rom data, your option.
Rock Solid Foundation
Precision components create the foundation for accurate XYZ measuring. Monitors 16 points simultaneously.
Complete Underbody, Underhood, & Upperbody
You get total vehicle dimensioning so critical reference points can be repaired with complete assurance of accuracy.
Accuracy
The entire system is built in a precise fixture then fully set up and calibrated with lasers to assure complete accuracy.
SPECIFICATIONS
Quality materials and build tolerances ensure precision components.
6063-T5 and 6005-T6 aircraft aluminum used in our system.
All aluminum parts meet or exceed ASTM B221 standards.
NC and CNC precision machine manufacturing.
Durable anadized finish on all aluminum parts.
All components are jig assembled and laser calibrated.
Custom, easy to read measuring scales used.