Olympian | Olympian Electric Series | Titleist | Vulcan | Centurion | Titan | Portable Pulling System
Laser Measuring Systems | Mechanical Measuring System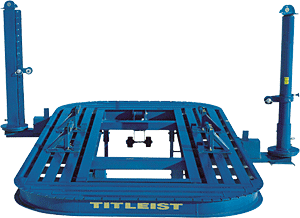 Available with Multi Height Lift






Choose a deck length of 16, 18, or 20 feet.
Choose round or standard style towers
A very portable rack
Lightweight removable ramps
Newer detente style pinch weld clamps
Infinite tie down locations
Heavy double bearing casters
Excellent loading angle
Over 12 inches of chain travel
Choose from a variety of accessories
Quality Enerpac hydraulics
RACK SPECIFICATIONS
| | |
| --- | --- |
| Radius of Pulling | 360 degrees |
| Deck Width | 90 in. |
| Deck length choices | 16, 18 and 20 ft. |
| Treadway Width | 26.5 in. |
| Center Opening | 37 in. |
| Deck Height | 26 in. |
| Tower Height | 88 in. |
| Pinch Weld Height | 11 in. |
| Hydraulic Enerpac | 10 ton air/hyd. |
OPTIONAL EQUIPMENT

Power Lifting Bar
You'll love this option for overhead pulls, roof repairs or when changing an engine cradle.


Jacking Beam
Our jacking beam will give you the ability to make repairs in the center of the rack.


Full Frame Holding
Our full frame stands are very affordable. This option makes working on full frame vehicles safe, fast and easy.
OPTIONAL RACK ACCESSORIES AVAILABLE
| | | |
| --- | --- | --- |
| Tool Board #1 | Tool Board #2 | Tool Board #3 |

Tool Board #4


Pro Gauge Package Includes:

Deluxe centerline gauges with magnets
Strut tower alignment gauge
Universal tram instrument


Air Jack

Deluxe 2 and 3 bag air jacks by Rak Jak